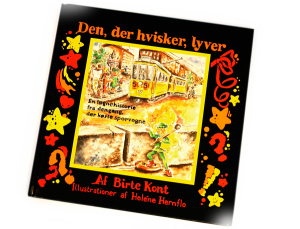 Skal man altid sige sandheden? Eller må man lyve lidt en gang imellem? Og hvis man lyver, får man så en sort streg i panden?
Lotte er seks år. Hendes storesøster, Merete, er tolv år. Den dag, Merete henter Lotte fra børnehave i stedet for mor, hører Lotte på vej hjem i sporvognen, at Merete lyver. Mor og far vil ikke rigtig ud med sproget, og Lotte er ensom og forvirret.
Men så får Lotte besøg af Overalfen Alfredo, og gennem Alfredo opdager Lotte, at de voksne ikke altid siger sandheden.
"Der er hvide løgne, lodrette løgne og snyd. En hvid løgn lugter næsten ikke og er ikke lige så slem som en lodret løgn. Snyd kan være både det ene og det andet," forklarer Alfredo.
DEN, DER HVISKER, LYVER – EN LØGNEHISTORIE FRA DENGANG, DER KØRTE SPORVOGNE er udkommet på Forenede Udgivere A/S 1994
Illustrationer af Heléne Hernflo, howcom
Anmeldelse
EN LILLE LØGN
"Der er både pædagogik og moral i denne børnehistorie, men ikke mere end der må være. Altså en god kim til en god snak mellem børn og forældre eller bedsteforældre om snyderi, løgn og sandhed. Bogen er velegnet til oplæsning."
CARL SKØTT, VENDSYSSEL TIDENDE
THE ONE WHO WHISPERS LIES
Should you always tell the truth? Or is it alright to lie once in awhile?
And if you lie will you be branded with a mark for everyone to see?
Lotte is six years old. Her big sister, Merete, is twelve. One day Merete picks Lotte up from the kindergarten instead of their mother and Lotte hears Merete tell someone a lie as they are riding the trolley. Mom and Dad don't really want to talk about it and Lotte feels lonely and confused.
But then Lotte receives a visit from the head of alfs, Alfredo and through him Lotte discovers that grown-ups don't always tell the truth.
"There are white lies, straight lies and then there is cheating. You can hardly smell a white lie and it isn't as bad as a straight lie. Cheating can be both one or the other," Alfredo explains.
Whoever whispers Lies: A Tall Tale from the Days When There Were Still Trolleys was published by Forenede Udgivere A/S in 1994.
Illustrations by Heléne Hernflo, howcom
Review
"Whoever Whispers Lies: A Tall Tale from the Days When There Were Still Trolleys"  was published by Forenede Udgivere A/S in 1994
A Small Lie
"There is both an educational and  moral aspect to this children's story, but not more than there ought to be. In other words, it provides a good basis for a talk between children and parents or grandparents about cheating, lies and the truth. The book is suitable for reading aloud.
CARL SKØTT, VENDSYSSEL TIDENDE