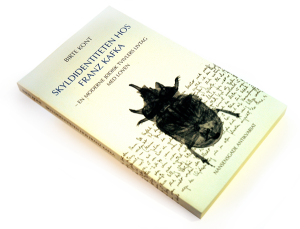 Birte Kont er cand.phil. i litteraturvidenskab og peger i dette essay på en hidtil underbelyst dimension i den danske litteratur om Franz Kafkas forfatterskab:
En forbindelse mellem skrivningen og den jødiske religions historiske, kulturelle og åndelige rødder. Hermed kastes nyt lys på ironiske, anarkistiske, meta-fysiske og kabbalistiske aspekter i forfatterskabet. Frem for alt belyses den moderne jødiske forfatters livtag med Loven i den rabbinske tradition.
Bogens omdrejningspunkt er, som dens titel, skyld-identiteten hos Kafka, hvis udspring er det velkendte misforhold i familiehistorien, Kafkas livslange forsøg på at gå imod Faderloven – og skylden. Hermed afdækkes en bagvedliggende specifikt jødisk værdikonflikt, der – med baggrund i Moseloven – udspilles mellem den materialistiske fars assimilerede jødedom og sønnens åndeligt orienterede jødiske interesse. Et efterord af Bent Melchior belyser centrale aspekter af denne værdikonflikt.
I bogen behandles skyldens individuelt psykologiske og kollektivt religiøse jødisk-historiske sammenhænge. Dermed også Kafkas egen søgen efter en jødisk identitet, som forløber via hans opgør med faderens jødedom, jødiske studier, tilegnelse af det hebraiske sprog og fascination af den østeuropæiske hassidisme.
Bogen henvender sig til den interesserede Kafka-læser  og til enhver, der interesserer sig for jødisk filosofi.
SKYLDIDENTITETEN HOS FRANZ KAFKA – EN MODERNE JØDISK TVIVLERS LIVTAG MED LOVEN er udkommet på Nansensgade Antikvariats Forlag maj 2002.
Anmeldelser
ET FUND FOR KAFKA-ELSKERE
"Vedkommende og inspirerende fra først til sidst. Her kan nutidens læsere få en grundig lektion i, hvad åndelig søgen egentlig vil sige. Jo, denne bog er afgjort et must for Kafka-elskere.
*****METTE DALSGAARD, BERLINGSKE TIDENDE
KAFKAS JØDISKE KLANGBUND
"Med hendes særlige vinkel og belysning af Kafkas skyldkompleks forstår man nu lidt bedre, hvorfor det at skrive for Kafka var som en bøn, og hvorfor han tidligt i sit liv opstillede det litterære kvalitetskriterium, at en bog skal være "en økse til det frosne hav" i os. Tak for det!"
STIG DALAGER, UDSYN
"Med sin nye belysning er Konts værk nyt hovedværk i den danske Kafka-litteratur. Bogen er nødvendig, hvis man vil helt ind til kernen i Kafkas univers."
TORBEN WENDELBOE, DANSK BIBLIOTEKS CENTER
Kafka
Birte Kont, who has a Master's degree in Comparative Literature, draws attention to what has been up until now an inadequately discussed aspect in Danish literature with regard to Franz Kafka's authorship, namely the connection between his writing and the historical, cultural and spiritual roots of the Jewish religion. New light has thus been shed upon the sense of irony, as well as the anarchistic, metaphysical and Kabbalistic aspects found in his writing. But, more than anything else, new light is also thrown on the modern Jewish author's struggle with the Law according to the rabbinic tradition.
As the title would suggest, the book revolves around Kafka's guilt identity, the basis of which derives from the well-known disparity that existed in his relations with his family and his lifelong attempt at opposing the Law of the Father and his sense of guilt. As a result, an underlying, specifically Jewish conflict regarding the question of values is unearthed, a conflict that is based on the Law of Moses, and that is played out between the materialistic, assimilated Judaism of the father and the son's more spiritually-oriented interest in Judaism. An epilogue by Bent Melchior illuminates some of the central aspects regarding this conflict in values.
The book deals with the notion of guilt in psychological terms pertaining to the individual and in terms of a collective, religious, specifically Jewish-historical context.
Moreover, this includes Kafka's own search for his Jewish identity, which occurs through his encounter with his father's Judaism, Jewish studies, his acquisition of the Hebrew language and fascination with Eastern European Hasidism.
The book is intended for readers who are interested in Kafka and for anyone generally interested in Jewish philosophy.
Kafka's Guilt Identity: A Modern Jewish Skeptic Wrestles with the Law was published by Nansensgade Antikvariat in May, 2000.
Reviews
A Find for Kafka Lovers.
Relevant and inspiring from the first page to the last. Modern day readers will find a thorough depiction of what spiritual seeking really is. There is no doubt about it, this book is a must for Kafka lovers.
*****METTE DALSGAARD, BERLINGSKE TIDENDE
Kafka's Jewish Resonance
With [Birte Kont's] unique take on and illustration of Kafka's guilt complex it becomes more apparent why writing was a form of prayer for Kafka and why, early on, one of his criteria for determining whether a book was quality literature was that it had to be "an ax for the frozen sea within us. I thank [Birte Kont] for providing us with that.
STIG DALAGER, UDSYN
By shedding new light upon the subject, Kont's new book is now considered a new major work within Danish Kafka studies. The book is a must for those who want to get to the heart of Kafka's universe.
TORBEN WENDELBOE, DANSK BIBLIOTEKS CENTER (Danish Bibliographic Center)